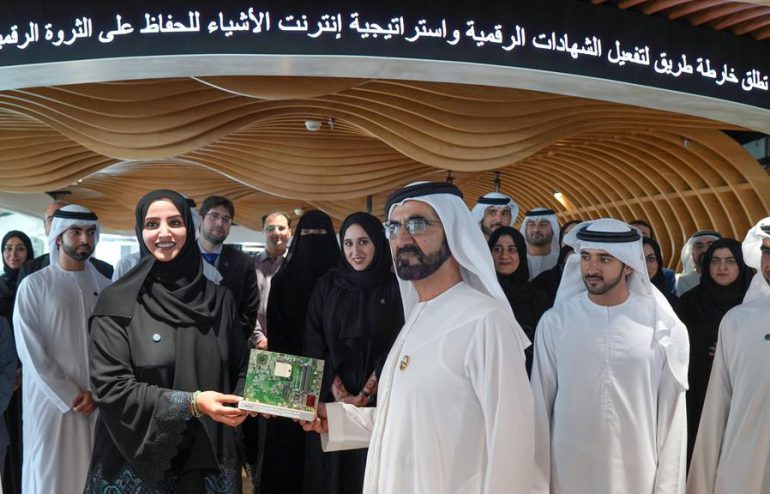 ---
Sheikh Mohammed launches Internet of Things Strategy in Dubai
mart living in Dubai has officially begun with the launch of the emirate's flagship Internet of Things Strategy and Data Wealth initiative, Sheikh Mohammed bin Rashid said on Sunday.
The Vice President and Ruler of Dubai launched the initiative, which aims to protect the emirate's digital wealth, at the Smart Dubai headquarters in Dubai Design District.
"Dubai's push to build the ­future today has helped establish a digital infrastructure that is now a strategic national asset in the wake of the Fourth Industrial Revolution," Sheikh Mohammed bin Rashid said.
The initiative will also award Dubai Digital Certificates for outstanding government and private entities.
"The Dubai Digital Certificates and the Dubai IoT Strategy mark the official launch of smart living in the emirate and we have directed all government institutions to co-operate and fully implement the initiatives by the year 2021."
Dubai Digital Certificates are the benchmark against which all smart services in the emirate will be evaluated to preserve Data Wealth, Sheikh Mohammed said as he accepted the first certificate presented by Dr Aisha bint Butti bin Bishr, Director-General of the Smart Dubai Office.
Dr bin Bishr said the initiative sets the foundation for Dubai's smart living transformation. "When we launched Smart Dubai three years ago, we sought to enable people to make use of the vast amounts of data generated every day in one of the busiest cities in the world. Today, as we launch the Dubai IoT Strategy, we provide the people of Dubai with an unmatched smart lifestyle," she said.
Data Wealth consists of data, data-storing and processing technologies, paperless transaction policies and systems like Blockchain, digital signature and ID, smart living and clean energy, among other elements, reported state news agency Wam.
The Dubai IoT Strategy will be implemented in four stages over three years and aims to build the world's most ­advanced IoT ecosystem that would mean the interconnectivity of all things online.
The strategy also aims to encourage government departments to join the emirate's smart transformation and achieve the objectives of the Smart Dubai Plan 2021 to transform to a 100 per cent paperless government.
The Dubai Crowd initiative was also launched on Sunday.
It is the first technical project in the IoT Strategy, which seeks to manage and organise crowds in the emirate during peak seasons to ensure safety and security.
Dubai Crowd analyses real-time data and suggests plausible scenarios for decision makers.
Sheikh Hamdan bin Mohammed, Crown Prince of Dubai and Chairman of Dubai Executive Council, and Sheikh Maktoum bin Mohammed, Deputy Ruler of Dubai also attended the launch.
Source: https://www.thenational.ae/uae/government/sheikh-mohammed-launches-internet-of-things-strategy-in-dubai-1.669413